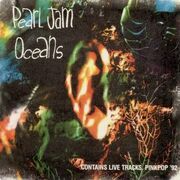 "Oceans" is the seventh song on Pearl Jam's debut album, Ten. The lyrics were written by Eddie Vedder while the music was co-written by Vedder, guitarist Stone Gossard, and bassist Jeff Ament.
The song is based on Vedder's love for surfing, but, as seen on MTV Unplugged, is dedicated to his then girlfriend, Beth Liebling. Seems like the protagonist of the song is lost on the sea and somehow tells his lover to wait for him, cause the waves of the oceans will bring him to the shore and once more they can meet.
Music & Lyrics
Edit
Hold on to the thread
The currents will shift
Glide me towards you
Know something's left
And we're all allowed to dream
Of the next...oh, the next.. time we touch..
Oooh...
You don't have to stray
Tho oceans away
Waves roll in my thoughts
Hold tight the ring...
The sea will rise...
Please stand by the shore...
Oh, oh, oh, I will be...
I will be there once more...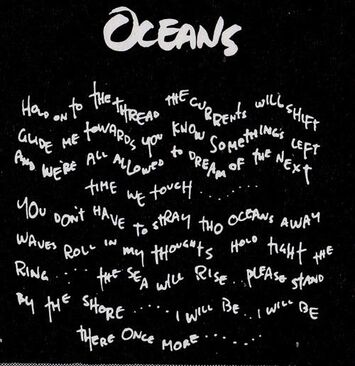 Ad blocker interference detected!
Wikia is a free-to-use site that makes money from advertising. We have a modified experience for viewers using ad blockers

Wikia is not accessible if you've made further modifications. Remove the custom ad blocker rule(s) and the page will load as expected.