"I Am Mine"
is the sixth song of
Pearl Jam
's seventh album,
Riot Act
. Its lyrics and music were written by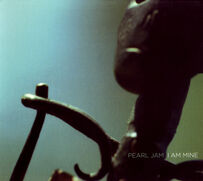 Eddie Vedder
and has become not one of the band's most recognizable songs of their post 2000 era. The song also was the first single of the album, alongside "
Down
" and "
Undone
". 
Background
Edit
The most successful song of Riot Act, I Am Mine is truly the summary of the ideology and feeling Pearl Jam had to built after the end of the decade of 1990. Personally wounded by the deaths of nine fans on the Roskilde tragedy, nationally fragile with September 11, 2001 attacks and with the feeling of a new and dangerous reality, Pearl Jam developed Riot Act with themes of existentialism, love as higher salvation, greed, war, peace, realism and songs about getting out of exile. By the way, I Am Mine is the most different song on the album, directly singing about personal experience.
A strong realistic song, I Am Mine is the description of life by the vision of a protagonist who has realized that only himself/herself can be the architect of his/her own luck after losing major virtues due reality. Among the selfishness of the outer world, denial and sorrow, the main character stands alone and affirms that is the only one who can construct his/her life, knowing that it has a start and an end, what's between is self-property.
The protagonist lost his innocence, feelings, and his understanding, all were beaten at once by reality, disilusions. Even though this position, the character stands believing he only understands himself and everybody is different from each other on the inside, and should keep moving building his own way.
Music & Lyrics
Edit
The selfish, they're all standing in line
Faithing and hoping to buy themselves time
Me, I figure as each breath goes by
I only own my mind
The North is to South what the clock is to time
There's east and there's west and there's everywhere life
I know I was born and I know that I'll die
The in between is mine
I am mine
And the feelings, it gets left behind
All the innocence lost at one time
Significant, behind the eyes
There's no need to hide...
We're safe tonight
The ocean is full 'cause everyone's crying
The full moon is looking for friends at high tide
The sorrow grows bigger when the sorrow's denied
I only know my mind
I am mine
And the meanings, it gets left behind
All the innocence lost at one time
Significance, behind the eyes
There's no need to hide,
We're safe tonight
And the feelings that get left behind
All the innocence broken with lies
Significance, between the lines
We may need to hide
And the meanings that get left behind
All the innocence lost at one time
We are all different, behind the eyes
There's no need to hide