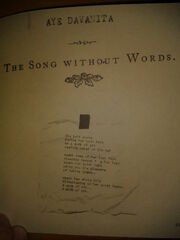 "Aye Davanita - the song without words" is the twelfth song of Pearl Jam's third album Vitalogy. Just like "Pry, To", "Bugs" and "Hey Foxymophandlemama, That's Me (Stupid Mop) ", this song follows a pattern of strange, coded and purely artistic songs.
While the song has no clear lyrics – except for the repetitive words that resemble a mumbled Aye Davanita – the booklet from the album presents a poem that tells the story of a girl's life, her best and worst days, comparing her to a work of art.
Music & Lyrics

Edit
Ad blocker interference detected!
Wikia is a free-to-use site that makes money from advertising. We have a modified experience for viewers using ad blockers

Wikia is not accessible if you've made further modifications. Remove the custom ad blocker rule(s) and the page will load as expected.